V
EHICLE
P
ERFORMANCE
With the virtual non-stop increase in the popularity of light trucks and sport utility vehicles, the opportunity to create an personalized vehicle for the active lifestyle genre, with capabilities far in excess of any ever built posed a challenging objective. With the creation of the Sportster Trac, a vehicle that offers the best of both of the above mentioned vehicle categories, this goal has been achieved. In doing so, we have set a new and higher standard for all other recreational / lifestyle vehicles to aim for. Through the use of advanced microprocessor technology, a state of the art computer is employed to enhance the performance. Used in conjunction with the 4 liter SOHC V6 engine, the Kenne Bell engineered Optimizer engine management system provides an impressive increase in horsepower and torque. This is accomplished with no sacrifice in durability or all around driveability and in fact actually improves the latter through the utilization of a more efficient spark curve. Additional performance enhancements include a high flow air intake package along with a low restriction cat back exhaust system. With the addition of these components, you'll actually feel the additional power. The Sportster Trac is ready, willing and able, anytime you are!
Complementing the performance gains is an enhanced suspension that improves upon the versatility of the vehicle through the use of a modest lift, thus offering improved ground clearance and shock dampening, along with a more aggressive vehicle profile. Eye catching 20" chrome plated alloy wheels are shod with matching high performance tires to further enhance the unique image of the Sportster Trac.
CONCLUSION
The Sportster Trac is a highly sophisticated vehicle, specifically designed from the onset with a dual personality. The Sportster Trac readily serves as both as a specialized recreational and lifestyle vehicle, while retaining all of the designed in features that enable it to function daily work environment. The Sportster Trac incorporates a combination of features not normally found within this market segment and offers the lifestyle and recreational enthusiast a vehicle with a true multi dimensional personality.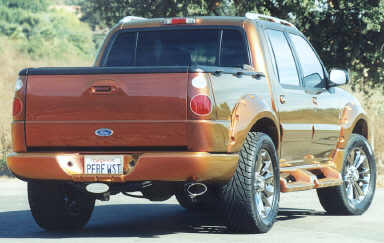 Engine:

HIGH PERFORMANCE COMPUTER
Manufacturer: Kenne Bell Performance Products
Model: Optimizer

ENHANCED FUEL PUMP
Manufacturer: Kenne Bell Performance Products
Model: Boost-A-Pump

SPARK PLUGS
Manufacturer: Denso
Model: Iridium

Wheels:
Manufacturer: Konig
Model: Tremor
Size: 20" x 8.5"

Tires:

Manufacturer: Toyo
Size: 305 /50R20

Shocks:

Manufacturer:
Rancho

Audio:
Manufacturer: Visteon


Model: MP3

Interior:

NAVIGATION SYSTEM


Manufacturer: Visteon NavMate

BRUSHED ALUMINUM DASH CAP
Manufacturer: Woodview Automotive Trim

CUSTOM LEATHER INTERIOR
Manufacturer: Katzkin
Product: Tan Leather with ColorShifting Trim

SEAT MASSAGERS
Manufacturer: Inalfa Sunroofs / W.E.T. Automotive


SEAT HEATERS
Manufacturer: AWA / Aisin


STAINLESS STEEL DOOR ENTRY GUARDS
Manufacturer: Cruiser Stainless Accessories

FIRE EXTINGUISHER
Manufacturer: Kidde Safety

Exterior:

CUSTOM FRONT FASCIA AND SIDE STEPS


Manufacturer: Visteon RoadFx

FENDER FLARES
Manufacturer: Bushwacker

SUN ROOF
Manufacturer: Inalfa Sunroofs

CUSTOM PAINT
Applied By: Mike Face Custom Paint

CUSTOM PAINT
Manufacturer: Flex Products
Product: ChromaFlair ColorShift Color: Arctic Orange

WINDOW TINTING
Manufacturer and Installer: Johnson Window Film

RETRACTABLE BED COVER
Manufacturer: Pace Edwards

BED LINER
Manufacturer: Wise Industries